Purity is the essence of fine health and good health is the essence of fine life!
Keeping this mantra in mind, 4S Foods abides by 'preservative-free' milk and other dairy products. We realise that good health begin with superior nutrition. When there is a lot in life to achieve and a little to cherish, being careless with nutrition can be the last straw. Cherishing and nourishing your health, and that of your family, becomes all the more important when you are constantly on the move, taking care of every single chore that demands your attention.
4S farm fresh milk works like a nutrient fill that reduces the health gap created by unwholesome lifestyle and adulterated consumption. A glass of 4S Milk works like an elixir on your overall fitness. The natural sweetness of the milk helps you cut down on the sugar intake, adding to the health quotient. For the kids, 4S milk is a bottle full of delicious nourishment. To get your daily dose of health and wellbeing, you can register with us by clicking here.
We are counted amongst the most renowned and trusted names in offering organic milk for entire families, especially children. Our milk is produced and processed at our own farms. For detailed understanding of our product and process, kindly find additional details below.
How is our milk different?
Our milk is as organic as it can ever get because
The whole concept of buying and selling Organic Milk Delhi is flawed. As brand "X" becomes "X Gold", it becomes more expensive only because of higher fat content, without any emphasis on added nutritional value! As a parent, we fail to understand how, just by increasing the fat content of the milk, the same milk becomes "Gold". This is like saying that junk food like burgers and pizzas are "Diamonds" for children, due to added fat content in the food. According to us, the nutrition of the feed for cattle decides the quality of the milk. Keeping this in mind, our cows are fed the best quality fodder, which is at par with what expensive thoroughbred race horses are fed. This ensures the yield produced by our cows is loaded and enriched with correct nutrition for our children.
Benefits of 4S Milk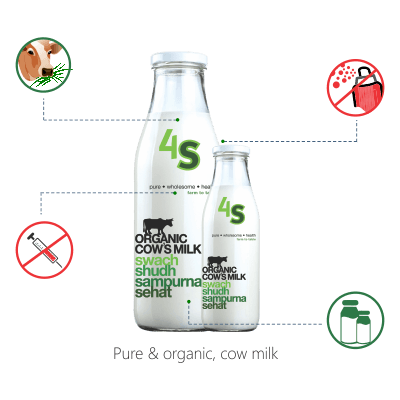 4S, Pure & Organic Products
"
Nastiness at bay and Tastiness at its best – precisely sums up 4S Milk. It is pure & organic cow's milk that you can completely trust and ensure good health.
"
Are we treating our kids to poison in the name of health?
The reality of milk comes out in public during festive seasons. The media broadcasts how milk, an important constituent of delicacies, is adulterated. Despite nature only intending to provide us wholesome health, are we consuming toxins instead? It's not just the lifestyle that is to be blamed, but also the lack of proper nutrition in packaged food products. Contamination of food is a major cause of health problems.
Brand 4S – Not Just an Option
We live in an era where health has taken a back seat due to a number of factors including an altered lifestyle that ranges from fast-paced to hectic. We, at 4S, steers into the idea of total health for those who are unwilling to compromise on their health and nutrition. 4S Foods believes in producing nutritious edibles, which are free from the nastiness caused by pesticides, fertilizers, and preservatives. You may ask, what drives us? It's the passion to create healthy food, like farm fresh milk, that does not compromise on taste and nutrition.
The truth about pouch milk readily available in market
Milk obtained from small dairies and farmers is collected at cheap rates, processed, packaged and sold to us. Cattle is bred in the most unhygienic conditions in most dairies of NCR region that results in contaminated milk. Since price of the milk given to the farmers is so low, the farmers are forced to feed cheaper fodder and imbalanced diet to their cattle to balance their economics. This leads to a vicious cycle.

Since the farmers are paid a miniscule amount for their labour, they are forced to purchase low-grade fodder, which results in unhealthy cattle – and ultimately low quality milk produce. Small farmers all over India feed their cattle with dry fodder which if full of fertilizers, chemicals and pesticides. Dry feed has very little nutrition; so in order to increase the protein value of this fodder 14 Kg urea is added to 400 Kg of fodder and stored for 10 days. This increases the protein value by 200% but at the same time contaminates the milk yield with cancerous chemicals. Oxytocin, a chemical that is harmful and banned by the government, is being freely used to increase the milk produce by an animal. When oxytocin is used in cattle to increase milk production, it even causes pus and infection in blood. Steroids, painkillers, antibiotics and other drugs that are introduced to cattle either as treatments or to enhance milk produce, make the milk unfit for human consumption. Water that is added to milk not just makes the quality poor but also unhealthy. Since the water sourced from canals, wells and ponds is contaminated, therefore the milk becomes contaminated too.
In all of Europe, Australia and America, people drink cow milk as it is low in fat. While there has been a misconception in India regarding buffalo milk being healthier, the awareness about it being just a fad is increasing. All dieticians and doctors are recommending cow's milk today, as it has only 2-3% fat compared to 7-8% fat in buffalo milk.
Our milk is completely free from preservatives and chemicals. Immediately after milking, it is packaged in non toxic, food Grade packs and chilled. Our cows are fed top quality balanced diet with special focus on the correct amount and ratio of carbohydrates, protein, fat, vitamins, minerals, and trace elements. High quantity of calcium phosphate, in the correct ratio, along with vitamin D3 is given on a regular basis to enrich the quality of the milk produced. Recommended by vets and veterinary scientists, the feed is safe and healthy.