Farm Fresh Cow Milk Online
Keeping this mantra in mind, 4S Foods abides by 'preservative-free' milk and other dairy products. We realise that good health begin with superior nutrition. When there is a lot in life to achieve and a little to cherish, being careless with nutrition can be the last straw. Cherishing and nourishing your health, and that of your family, becomes all the more important when you are constantly on the move, taking care of every single chore that demands your attention.
Farm Fresh Cow Milk Online available works like a nutrient fill that reduces the health gap created by unwholesome lifestyle and adulterated consumption. A glass of 4S Milk works like an elixir on your overall fitness. The natural sweetness of the milk helps you cut down on the sugar intake, adding to the health quotient. For the kids, 4S milk is a bottle full of delicious nourishment. To get your daily dose of health and wellbeing, you can register with us by clicking here.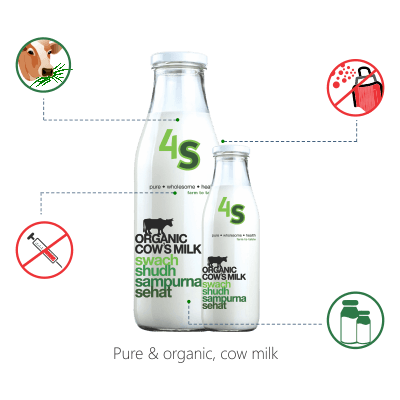 "Nastiness at bay and Tastiness at its best – precisely sums up 4S Milk. It is Farm Fresh Cow Milk Online available that you can completely trust and ensure good health."